Many safety forms and inspection reports are still done on paper, without the possibility to quickly modify them. TurboFormZ offers a better alternative to canadian businesses: digital safety inspection forms!
To save you time during your inspections, we offer an online and digital safety inspection report service to all companies.

TurboFormZ - Simplify Your Safety Inspections
Due to the growing demand for new forms from our clients, we created TurboFormZ: the first fully customizable form and survey generator developed in Quebec.
You can use our tool to generate and customize forms for your safety inspections and include as many settings as you wish. Take advantage of customizable forms to ensure your compliance with SAAQ (Société d'Assurance Automobile du Québec) standards.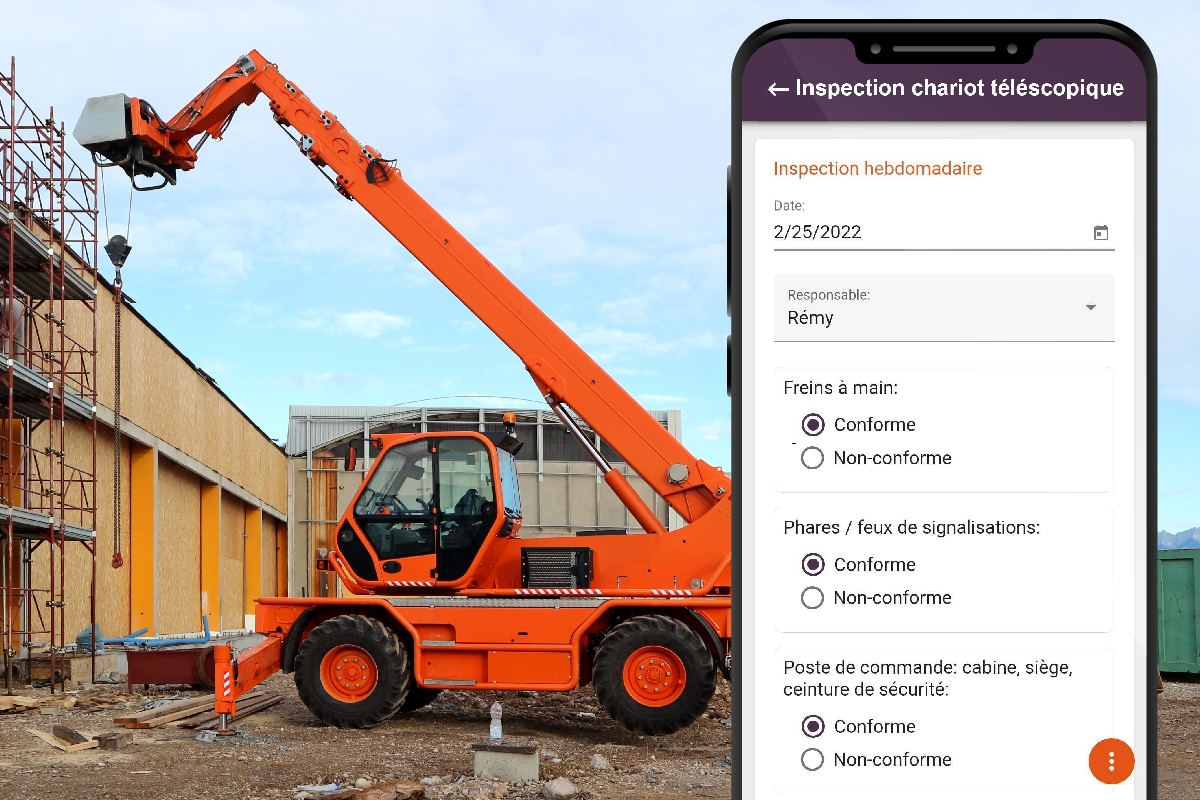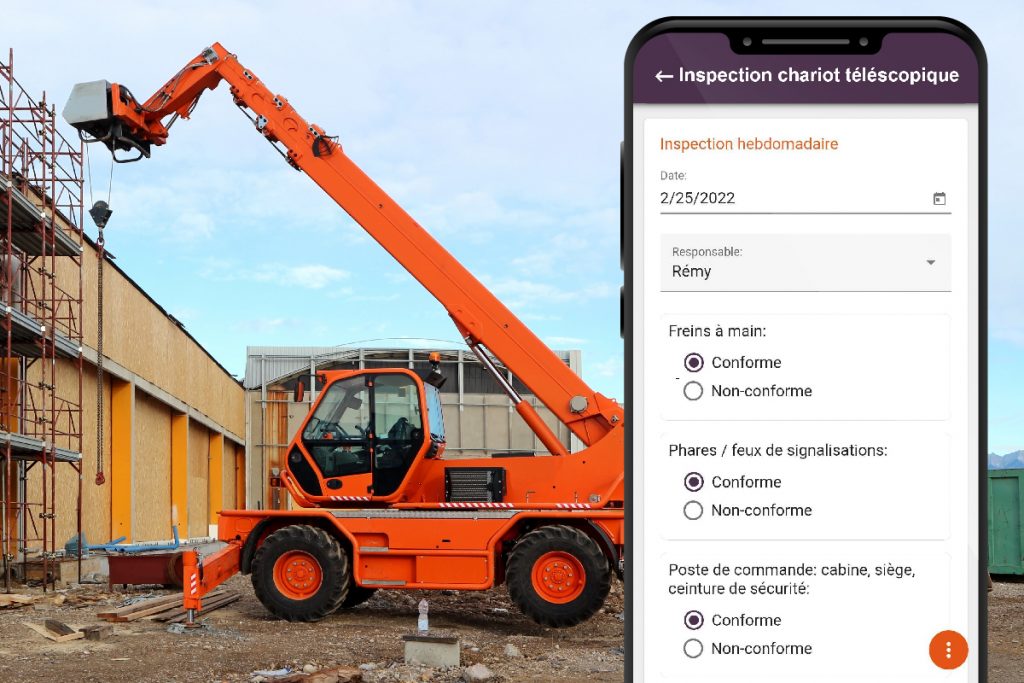 Our safety inspection form offers a wide range of benefits for everyone in your organization. Whether you are an employee filling out a form or an administrator verifying the requirements or creating the form, TurboFormZ's digital tool is perfect for you.
Our Forms Are Simple to Create and Easy to Use
Whether it is for the person who creates and manages the safety inspection forms or the person who fills them out, we made sure that our tool is as easy to use as possible!
Forms are built within minutes using a drag-and-drop function and immediately ready to be shared with your employees. With different field types, the option to add mandatory sections, and the ability to create safety inspection forms in English and French, you offer the best possible experience to your employees and human resources. Your timesheet users can even sign documents electronically.
Digital Safety Inspection Reports Save You Time
With TurboFormZ's customizable online forms, you can have all of your safety inspection forms in one place! A simple search through your form will allow you to find specific information, whether it's an approved timesheet, a specific project manager or project leader, employee time off, total hours, task progress or any other employee data filed online. 
Choosing the right tool allows you to save time on every level of the company!
Saves You Money
Digital and dematerialized documents mean less paper. Printing paper safety reports is slow and more expensive than digital forms: they have to be reprinted every time they change, move, or simply get damaged! Digital safety inspections are definitely more affordable than paper, but that's not the only way TurboFormZ has found to save you money!
All documents related to your safety inspections are now in one place with our cloud-based solution, and we offer accessible packages for all businesses rather than pay-per-use. This way, both administrative staff creating an expense report and employees have access to the same information and can access it in real time without slowing down their other tasks.
TurboFormZ Allows You to Standardize Your Data
Nothing is more annoying than forms that change regularly. Paper type, content, font, header. With TurboFormZ's customizable forms, you now have control over these elements when creating documents. This way, you only need to use the same or similar templates for all your safety inspection forms and all your information will be standardized according to your choices.
You Can Customize It Any Way You Like
The beauty of using TurboFormZ's online timesheet forms, aside from the significant cost savings, is that you can customize them any way you want.
You can choose the elements that will be accessible to the employees who will be filling out the forms during the creation phase. Simply drag and drop the elements you need, rename them and you're done!
The Information Is Safe
Our online platform is highly secure and you can trust us to keep your information confidential and be the only one who has access to it. Your sensitive data will remain out of reach for anyone who does not have access to the platform thanks to an electronic security lock.
Original documents will always be in the cloud and whether you are on site or thousands of miles away, you will always have access to original documents created by your team.
Shareable
Our tool is not only easy to use, secure and environmentally friendly, it is also very versatile and easy to share. 
Each of the forms you create can be exported and become PDF forms. You can then send them by email or using another medium. All our forms can be edited or viewed using a computer, phone or tablet.
It Is Easy to Get Help
If you get stuck creating a form, you can count on our team of representatives and our customer service to help you.
If you have any questions while creating your form, you can call on our technical support service which is there to assist you. It's free!
Ready to get started with TurboFormZ Safety Inspection Form?
Call us or click start to get started.
Learn More About Safety Inspections
What Is a Safety Inspection?
A safety inspection is an inspection of a vehicle before it is used to make sure it is operational and safe to use on Quebec roads. The safety inspection consists of a visual and auditory examination of different elements of the vehicle, and the purpose of this inspection is:
To discover potential defects as soon as possible;

To inform the owner or operator of a vehicle as soon as possible of problems discovered;

To prevent the use of a heavy vehicle that is at risk of causing an accident on the road;
Which Vehicles Need to be Monitored?
Road vehicles with a gross vehicle weight rating (GVWR)1 of 4,500 kg or more;

Road vehicle combinations where at least one vehicle has a GVWR of 4,500 kg or more;

Buses, mini buses and tow trucks (regardless of GVWR);

Road vehicles with a GVWR of less than 4,500 kg carrying hazardous materials requiring the application of hazard warning signs;
What Should Be Included in the Safety Inspection Report?
Safety inspection reports may be in paper or electronic format. However, they must include the following elements:
The vehicle license plate number or unit number listed on the registration certificate;

The name of the operator;

The date and time the round was made;

The municipality or location on the highway where the patrol was conducted;

Defects noted during the trip;

Deficiencies noted during the vehicle safety inspection (if none, this must also be indicated);

The name of the person who conducted the inspection (please print clearly);

A statement signed by the driver, or the person who conducted the inspection, that the vehicle has been inspected in accordance with applicable requirements;

If applicable, the signature of the driver who did not conduct the round, certifying that they have read the report and accepted the round;

The odometer reading if the vehicle is equipped with one.
How to Do a Safety Inspection on a Heavy Vehicle?
The person conducting the inspection should complete an inspection report and record their observations. The report should include: the license plate number or unit number of the vehicle or unit listed on the registration certificate and the name of the person operating the truck.
What Is the Driver's Responsibility?
Heavy vehicle operators must make sure that a safety inspection has been performed on a vehicle within the last 24 hours before driving. Some road vehicles are subject to significant regulations during their inspection by drivers, such as road vehicles carrying hazardous materials.
When Should Security Inspections be Conducted to Ensure the Safety of Vehicles and the Operator's?
Before driving and being on the road, drivers must make sure that their truck has been checked for any defects within the last 24 hours. This law was enacted on November 20, 2016 in Quebec.
What to Do When a Security Inspection Finds Defects?
Studies show that mechanical defects related to brakes, tires, wheels and couplings are a contributing factor in over 10% of heavy vehicle accidents. It is therefore extremely important to repair defects as soon as they are found and recorded in an accident report. A vehicle with defects identified by a roadside inspector, especially if it is carrying passengers, should never be used on the road until it has been repaired.
Do You Have Other Forms to Create for Your Business?
TurboFormZ specializes in many customizable forms for businesses of all kinds. Whether it's for equipment or vehicle inspections, safety inspections, or checklists, gain productivity with our custom forms!